Creating an Excellent product on Viator requires careful thought and attention to detail. Let's look at what an Excellent product looks like with a real-world example.
When you create a Viator product, you compete against other experiences on Viator and other websites. With so much to choose from, travelers search for quality markers to help narrow down their choices. Our data shows that travelers choose high-quality experiences 3x more often than lower-quality ones.
What makes a high-quality experience? Viator's Product Quality Standards provide clarity on what factors are considered. These standards ensure your listing information is accurate and up-to-date. Think of the quality standards as the benchmarks you must meet to deliver a great customer experience. 
There are the elements that determine your product's quality: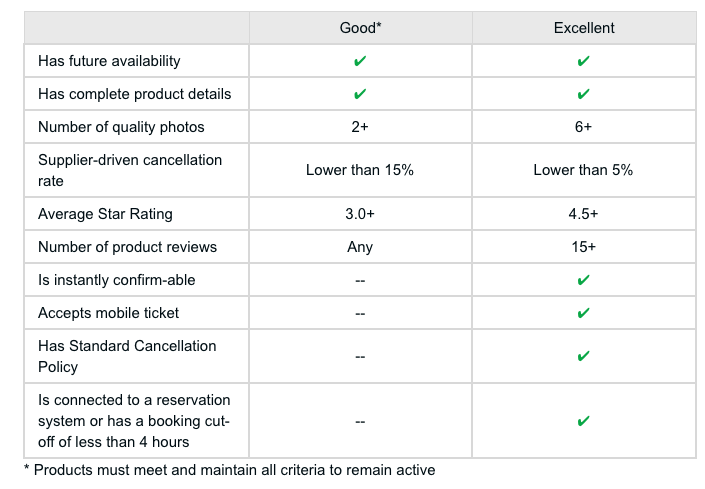 Here's what you need to fill out to satisfy the requirements for your product details: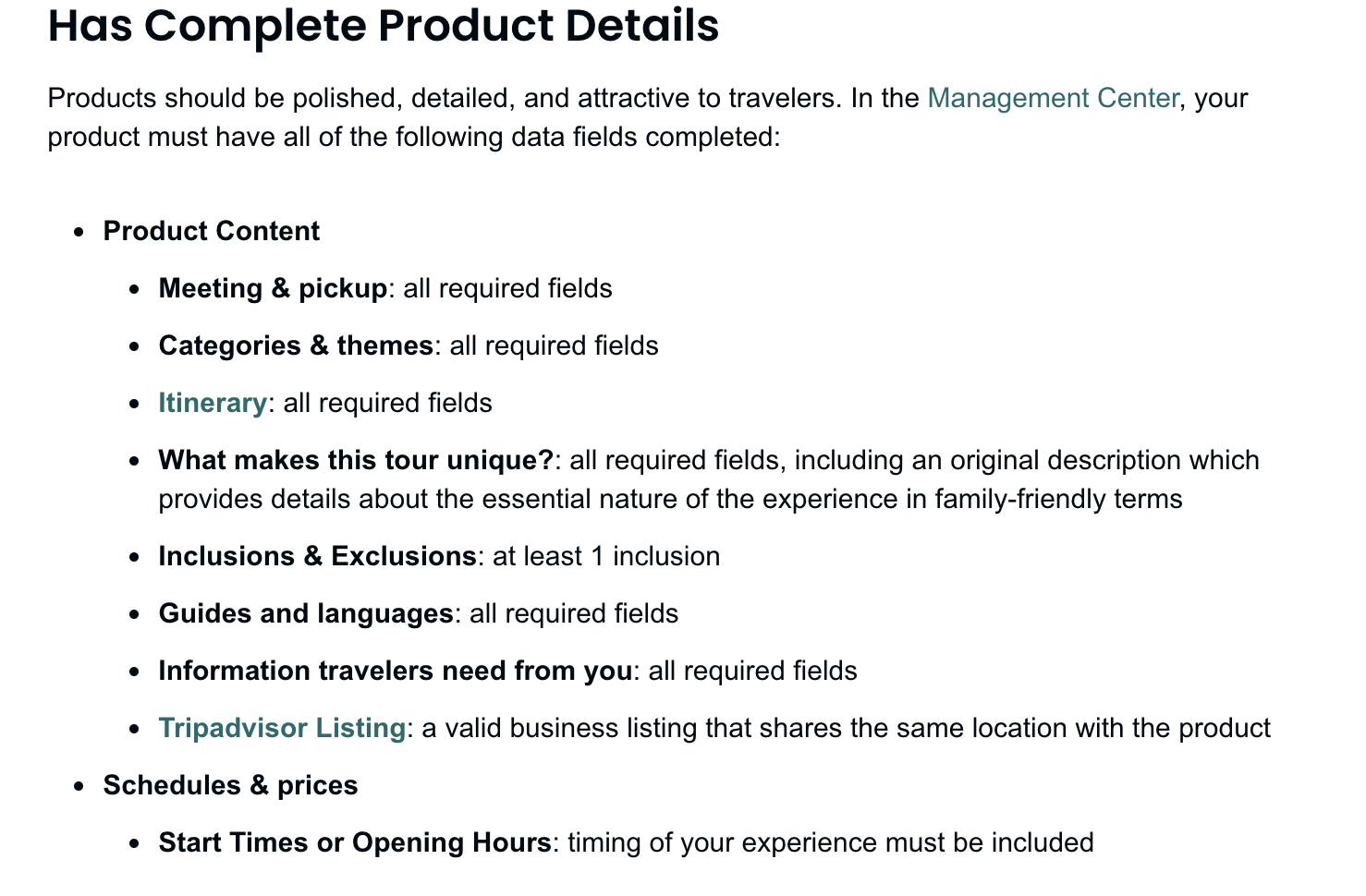 There are two acceptable levels of product quality on Viator: Good and Excellent. Ensuring your product meets all the requirements to be Excellent is the best way you can increase your chances of getting bookings on Viator. When your product is Excellent, it also provides travelers with a better overall experience—from booking to review.
Learn more about the Product Quality Standards in this Help Center article. 
With the traveler in mind, let's look at an actual product on Viator and walk through why it's Excellent.
The Number One Experience in the World is an Excellent Product—and it's Not a Coincidence!
Viator partnered with Tripadvisor to determine the Best of the Best Experiences in the world for 2020. These awards highlight the top experiences in categories like food tours, day trips, cultural experiences, and more.
The number one experience in 2020 is Premium Red Dunes & Camel Safari with BBQ at Al Khayma Camp in Dubai. This experience gives travelers a once-in-a-lifetime opportunity to go sandboarding, dune bashing, and camel riding in the desert. It's clear why travelers love this experience—it offers many unique activities in a gorgeous location. 
But it's not just the experience itself that entices travelers to book—it's also the fact that the product is set up for success on Viator. To capture bookings online, you must have a high-quality listing. When you can properly convey the excitement and enthusiasm you have for your experience on your listing, you're more likely to turn lookers into bookers. 
Here is the first thing travelers see when they land on this product page: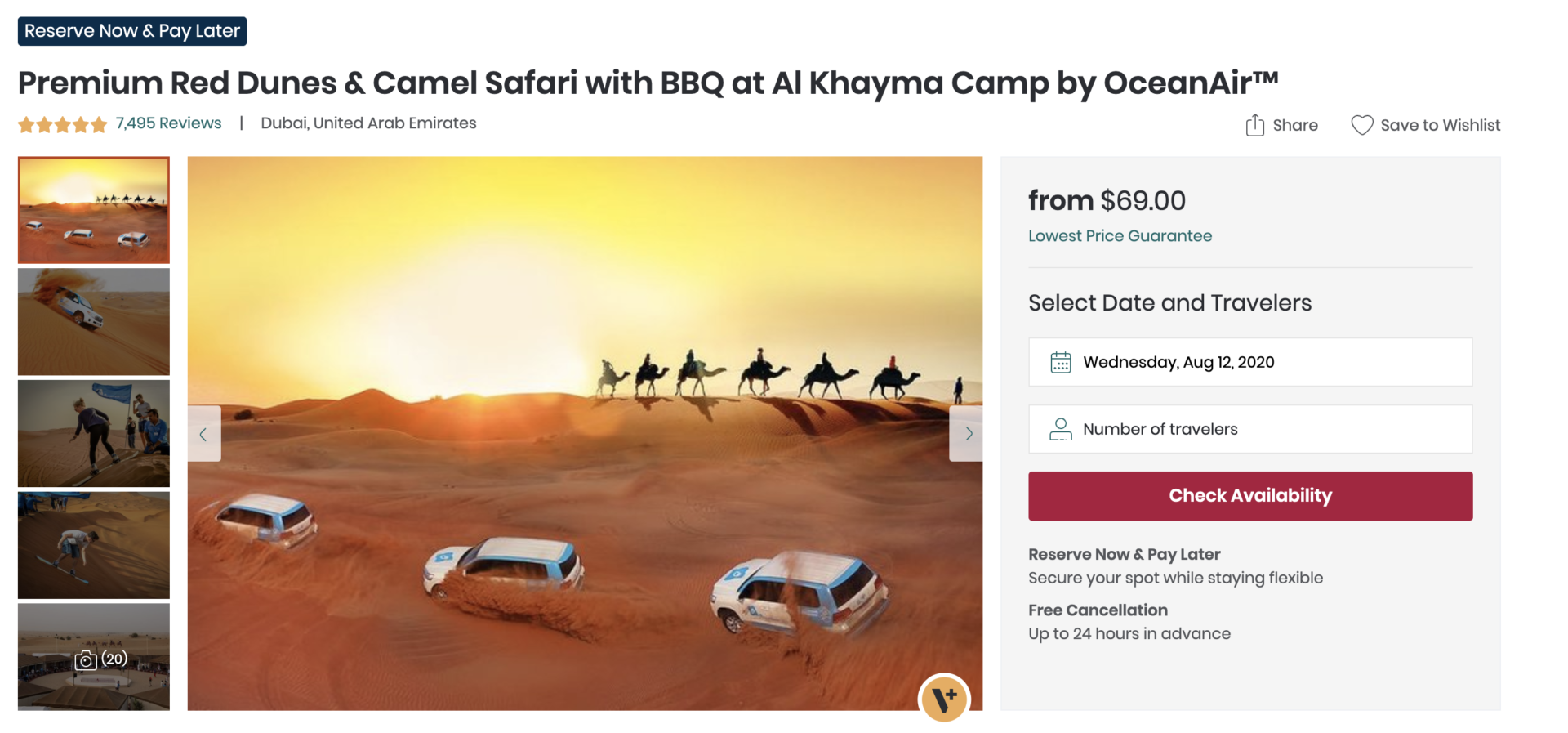 The product's title is clear and gives the traveler a good idea of what the experience will offer. Their feature image is evocative and instantly transports you to the desert. You can picture yourself riding in a vehicle across an endless expanse of sand, taking in the majestic views.
In addition to the breath-taking feature image, the operator has included 20 photos that paint a complete picture of what a traveler can expect. There are high-quality photos of dune bashing, sandboarding, the food they will enjoy, and the people they will meet during the experience. Before scrolling further down the page, the traveler has been given a 360-degree view of what to expect when they book.
Photos aren't the only thing travelers look for when researching an experience. They want to know details about the experience: what to expect, what is not included, the itinerary, where they'll be picked up, and more traveler-specific context.
Let's look at the overview for the above listing.

This section gives readers a great glimpse into the experience—it provides details like how long the tour is (half-day), transportation, and the itinerary. This information is crucial for travelers planning out their vacation.
Scrolling down the page, you come to the "What's Included" section: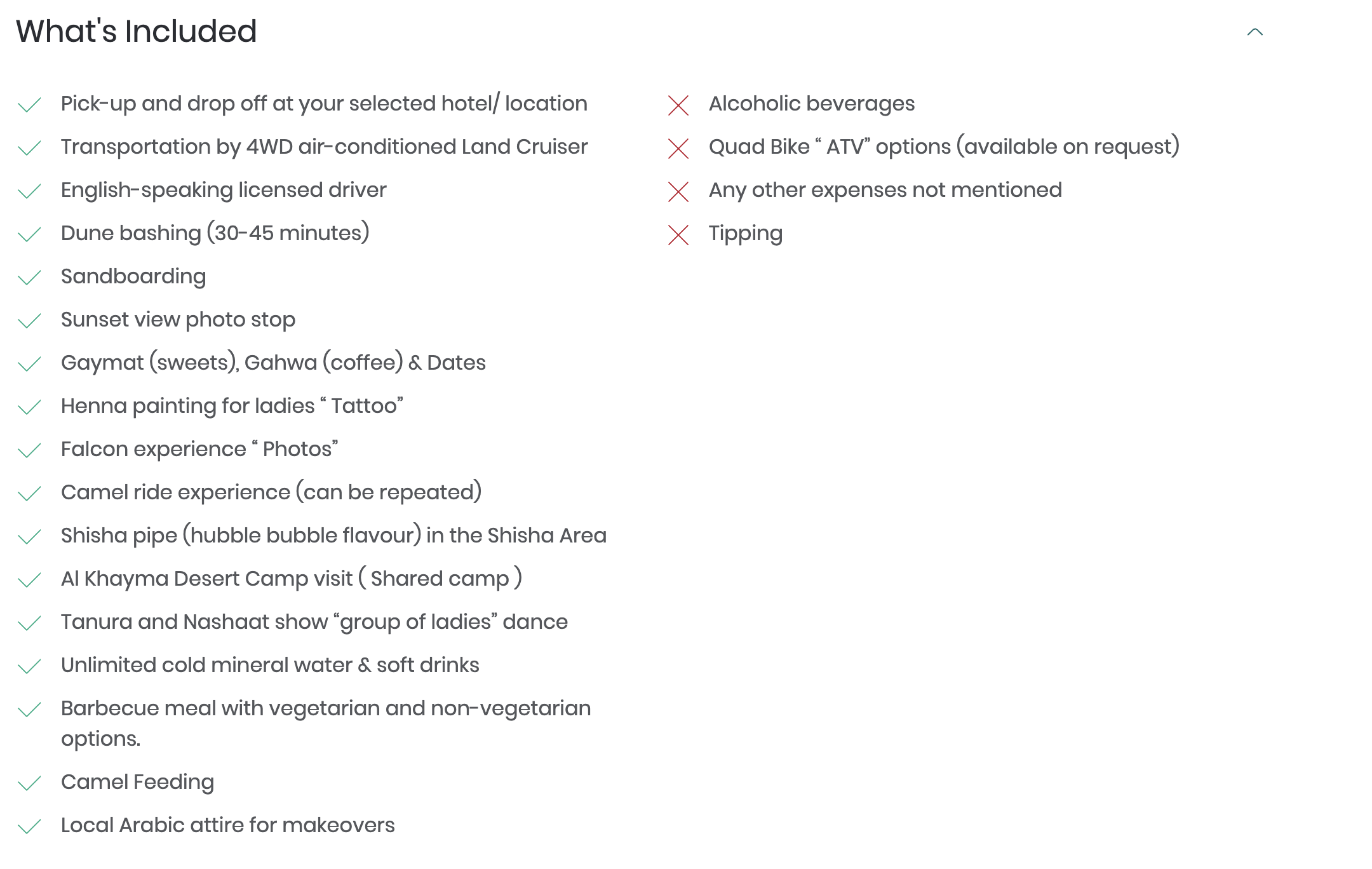 The more detail provided in this section, the better. The common theme of Excellent products on Viator is they give travelers as much quality information as possible. You want your traveler to have confidence in the quality of your experience far before they arrive.
A detailed itinerary is next up. A thorough itinerary is critical for a multi-stop, action-packed trip. Booking a half-day activity is a commitment for travelers. Giving them a detailed look at what they'll be doing allows them to understand the timing and work the experience into their travel plans.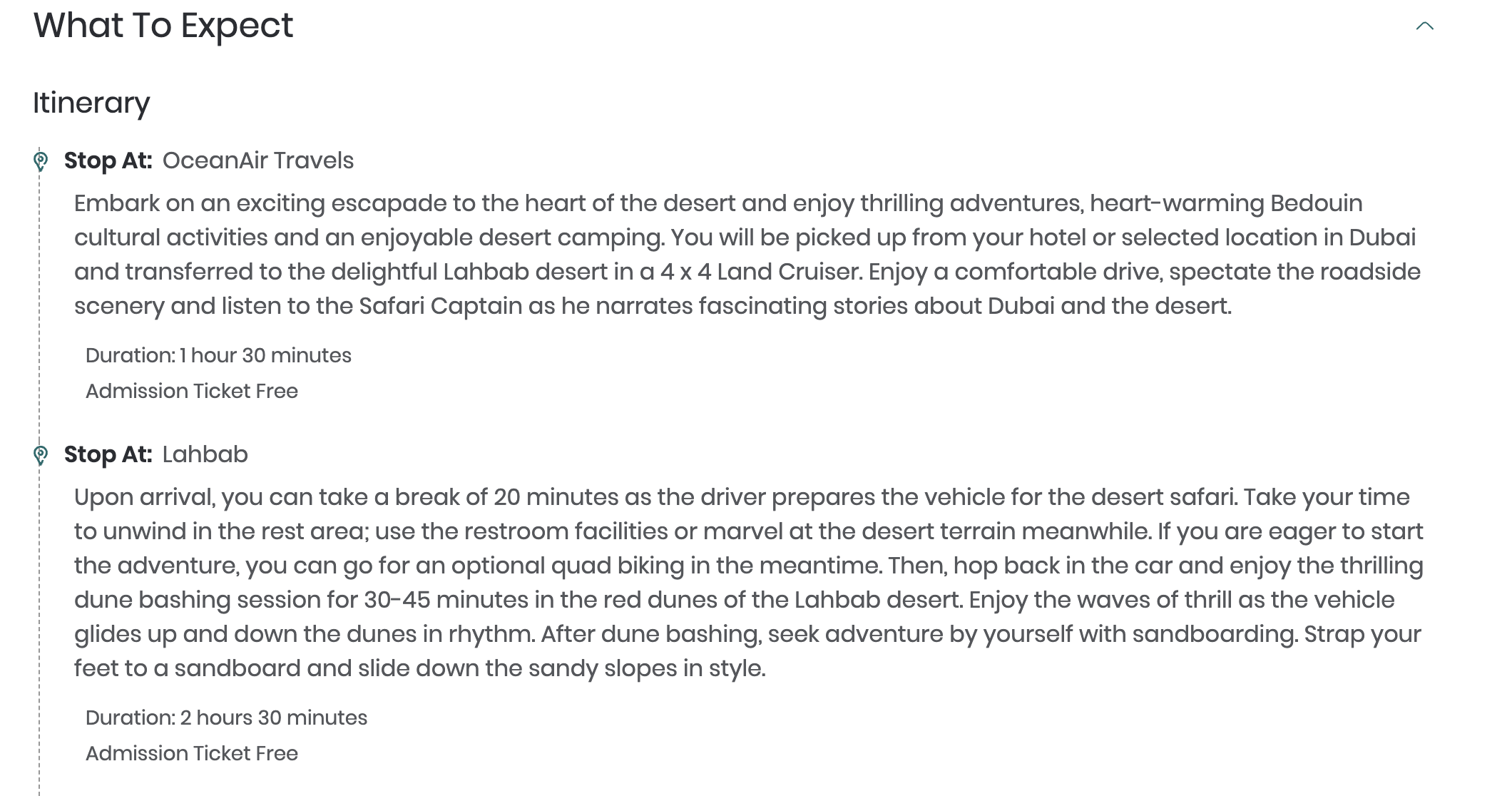 This itinerary goes into great detail. It even includes small breaks and bathroom stops. Readers get a sense of how long they'll be doing each activity and can imagine themselves doing it.
Finally, let's look at the "Additional Details" section. This is an area where you can include anything that wasn't covered in the previous sections. This is a chance to provide information that might tip an undecided booker over the edge into booking.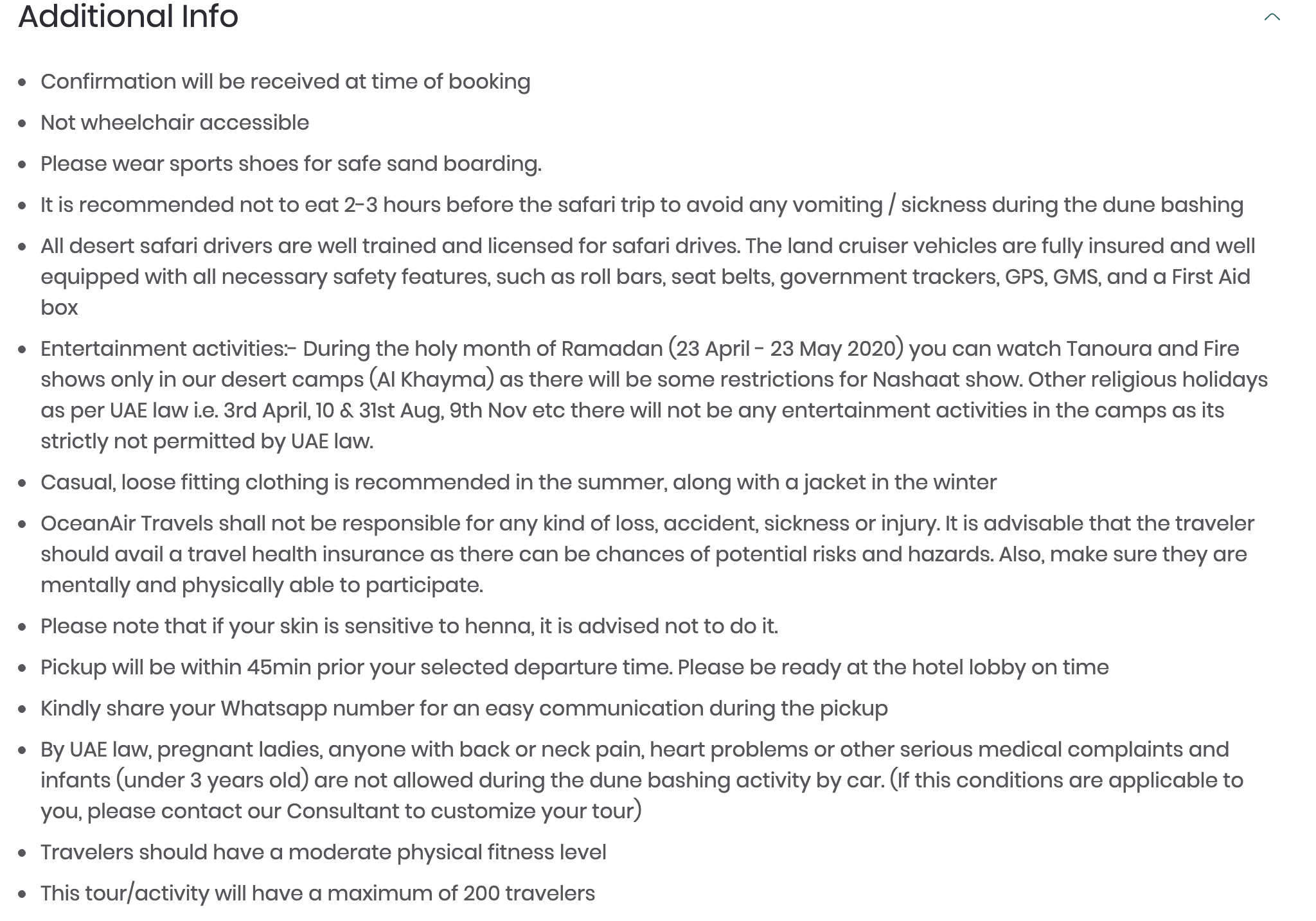 This section provides clarification on information from other sections. Travelers booking this experience should know to wear sports shoes and casual, loose clothing and not eat 2-3 hours before the safari trip. They also include local regulations and spiritual observations that may affect the experience. 
Traveler Experience Leads to Good Reviews—and High-Quality Products
One of the qualifications for an Excellent product on Viator is maintaining a 4.0+ average star rating. Ratings are part of your quality score because travelers rely heavily on reviews to make booking decisions. 89% of travelers say that reviews are essential when choosing an experience. 
When you give your travelers an unforgettable experience, they are more likely to provide you with a rave review, enticing new travelers to book with you. A glowing review from a previous customer is more persuasive than anything an operator can write about their own experience.
Premium Red Dunes & Camel Safari with BBQ at Al Khayma Camp in Dubai has a 5-star average on over 7,000 reviews. Combine their great product details with outstanding reviews, and travelers can book confidently. The review below highlights their driver and his enthusiasm and even says it was the best part of their trip to Dubai.

As you can see, this operator put a lot of effort into their product page. A traveler who clicks on this experience will have everything they need to make an informed booking decision. Who wouldn't want to explore the beauty of the desert, have some thrills in the sand, and taste the local cuisine?
If you want to make your products Excellent, go into your Management Center and check to ensure all of your product details meet the quality standards. It can be helpful to look at other products, like this one, for reference. What features can you adapt for your listing? What unique elements can you elevate and promote? Take these practices and make them your own.