You know that reviews have a huge impact on your business. They influence the way travelers research, book, and recommend experiences. One of the most important things you can do is work hard to collect reviews.
Taking the time to respond to reviews is a great way to prove to travelers (and potential bookers) that you are engaged with your customers. A Management Response is a direct reply to a review posted on your  product page, appearing below the original review. The nature of your response will be dependent on the context of the review, but our data shows that Management Responses with the right tone are always better than no response at all. 
A recent study conducted by Tripadvisor in partnership with Ipsos MORI revealed just how impactful Management Responses are on your business. We polled thousands of users from around the world about the ways they view responses to reviews, how that impacts their likelihood of booking, and the types of responses they like to see.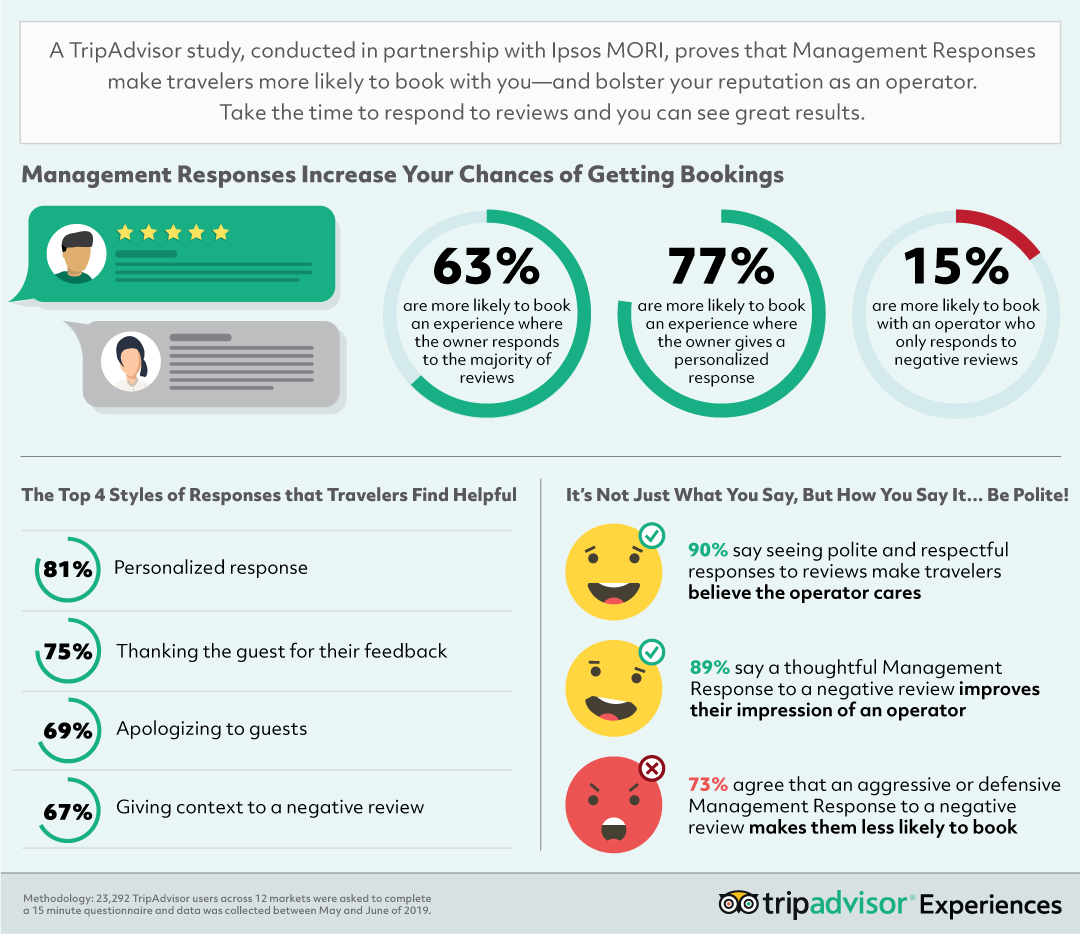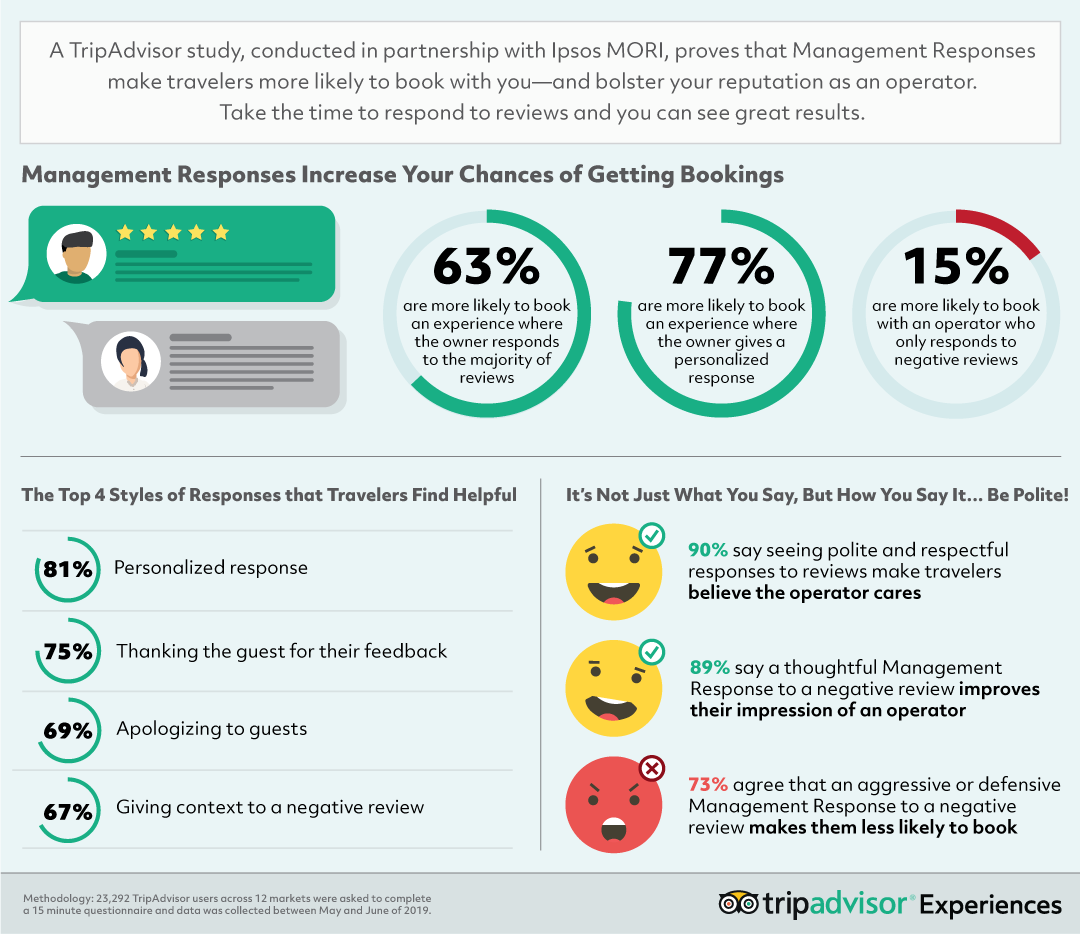 Management Responses Increase Your Chances of Receiving Future Bookings—Especially if They're Personalized
The mere act of responding to your reviews can increase your chances of receiving future bookings. 63% of respondents in our study indicated that they are more likely to book an experience where the owner responds to the majority of reviews. 
However, for an even bigger benefit, attempt to personalize your responses, if possible. If you (or your guides) can remember any details about the traveler and their visit, or that particular day and the experience you shared, mention that in your response. 77% of people said they are more likely to book when the owner personalizes their responses.
A personalized Management Response lets travelers know that a real person is taking the time to read their review and then answer it directly. If you care that much about reviews, then clearly you care about your business and ensuring travelers have an incredible experience.
And if you think responding to negative reviews is enough—think again. Just 15% said they are more likely to book with an operator who only responds to negative reviews.
Use Management Responses to Thank Guests and Provide More Context
Clearly it's a good idea to respond to reviews, but now the question is: how do you respond to reviews? What exactly are travelers looking for when they read Management Responses? Our study asked respondents to indicate the top ways in which responses to reviews are helpful. 
The top two choices—personalized responses (81%) and thanking the guests for feedback (75%)—show that travelers are looking for a connection with the operator when they leave a review. They want to know that their review is appreciated, and matters to the operator.
The next two in the rankings, however, reveal how Management Responses can be used to smooth over a potentially rocky situation. Apologizing to guests (69%) and giving context to a negative review (67%) indicate that travelers like to hear from the operator when there's a negative review; the more information at their disposal, the better. They can use the information to determine what caused the negative review and if it will have any impact on their booking decision. 
Receiving a negative review can hurt when you strive to provide a wonderful experience for everyone. But sometimes mistakes or misunderstandings happen, and responding to a negative review is a good way to clear the air and provide future travelers with important context. For more tips on how to respond to a negative review, read this article.
Politeness Goes a Long Way When Responding to Reviews
Almost as important as the act of responding to reviews, is the tone you use when writing a Management Response. Remember, responses to reviews are all about establishing a connection with the traveler and acknowledging that they took the time to write a review of their experience with you. 
It's no surprise, then, that users resonate more with reviews that have a congenial and friendly tone. 90% of respondents said that polite and respectful responses to reviews make them believe the operator cares. Similarly, 89% say a thoughtful Management Response to a negative review improves their impression of an operator. 
On the flip side, 73% agreed that an aggressive or defensive Management Response to a negative review makes them less likely to book. It can be tempting to defend your business if you believe you've received an unfair review, however it pays to remain calm, state your side of the story politely, and thank the guest for their review—travelers appreciate level-headed operators.
If you haven't considered responding to your reviews, this data shows that it's a worthwhile endeavor that deepens your connection with travelers, and can lead to more bookings in the future.