One of the most exciting updates to Viator Accelerate is the expansion of our ad placement offerings. Along with these ads, we've introduced a metric to help you better understand how your products are performing: ad impressions. You can now view your product's estimated ad impressions and adjust commission to increase exposure and drive growth.
Before we discuss strategy, let's define some key terms:
As an operator, you want your products to have as much exposure as possible. By participating in Viator Accelerate, your products can access strategic ad placements that deliver greater exposure through more ad impressions than a standard listing alone.
What determines how many ad impressions a product receives?
Your product's share of ad impressions, as compared to your competitive set, is based on several factors:
Popularity: This includes volume and recency of bookings. To learn how to get more bookings, read Here's What an Excellent Product Looks Like on Viator.
Credibility: We monitor a product's review rating, quantity, and recency. To learn why reviews matter, read: Why are Reviews So Important?
Commission: The greater your commission (popularity and credibility being equal), the more we'll promote your product through high-traffic ad placements and ad impressions delivered. We'll discuss this relationship in greater detail below.
How can understanding ad impressions help me get ahead?
This is where the Accelerate enhancements come in handy. You'll be provided with a number of estimated ad impressions for each participating Accelerate product. This number represents the ad impressions you would have received based on last month's data. It serves as an estimate* of how many ad impressions you could receive in the upcoming month at your selected commission rate.
In the example to the right, at a 27% commission rate, this product could expect to receive 980 ad impressions a month. The exact number of ad impressions this product ultimately receives will be reported in the Insights dashboard at the end of the month.
*Estimate is subject to change based on seasonality and traveler demand.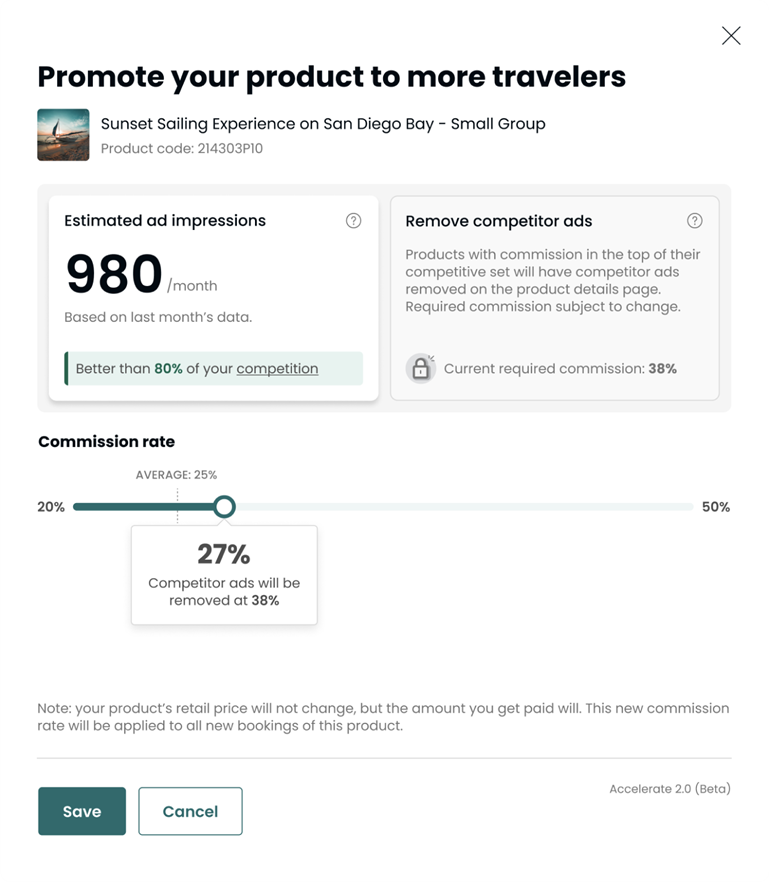 How can I tell if my product is competitive?
Below your estimated ad impressions figure, you'll see a percentage representing your product's performance relative to the competition. In the example above, at the elected commission rate of 27%, this product is expected to perform 80% better than the competition. This means that out of ten similar products, your product will receive more ad impressions than eight. That's pretty competitive! But there's still an opportunity to receive more ad impressions.
The Commission rate slider shows the impact of an increase or decrease in commission on your Estimated ad impressions. The Commission rate you select and save will change your Estimated ad impressions within 48 hours.
What else can I do to be as competitive as possible?
Another new feature shows you what percent commission will remove competitors' ads on your product page. In the example above, raising your Commission rate to 38% for this product would remove competitor ads from your product page. The Commission rate required to remove competitor ads varies based on your product's competitor set and how competitive that market is.
Who are my competitors?
Based on operator feedback, we're delivering clearer insights on your competitors. Our data determines your competitor set and refers to similar products in the same category and/or location as yours that travelers would consider when making a booking decision.
Next Steps
Now that you understand how ad impressions are distributed and have a clearer picture of your competition, we encourage you to explore Accelerate Insights for each of your products. Remember, since Viator Accelerate is a commission-based program, there are no upfront costs to opt in. Use our new tools to leverage ad impressions to shine a light on your products and get in front of more customers today!