Understanding Your Visibility Score and Using it to Power Strategic Decisions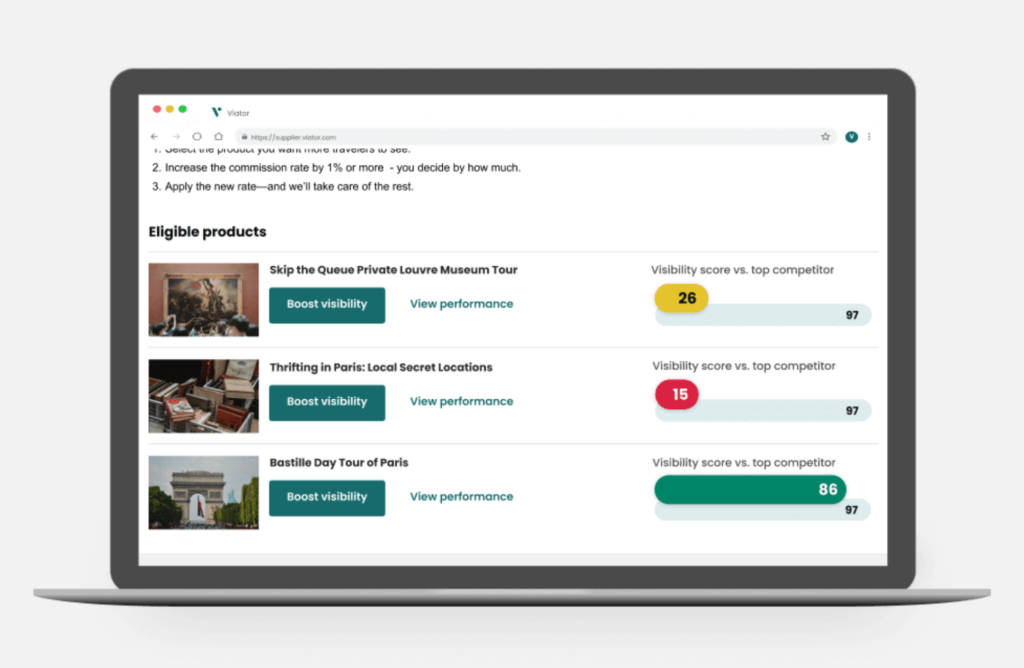 Viator Accelerate brought forth a game-changing marketing tool for operators: the visibility score. Understanding the visibility score is crucial for anyone seeking insight into a product's current standing in the Viator marketplace and wanting to improve its performance. When used properly, the visibility score can be one of an operator's greatest strategic assets. 

The Basics:
A product's visibility score is made available to you when it becomes eligible for Viator Accelerate. An eligible product's visibility score can be found on the Products page under the Accelerate tab regardless of whether or not they are currently in the program.  
Products opted in to Viator Accelerate gain access to the Insights page, which can be found on the Performance page under the Accelerate tab. The Insights page also includes more in-depth information about bookings, page views, and competitor performance. 
 What this tells us:
Before you've even opted a product into Viator Accelerate, you get a snapshot of market conditions in your destination from your Top competitor's score (listed directly below your current visibility score) and Average visibility score. The Top competitor score is the highest visibility score in your product's destination at that moment. For example, if your product is a boat tour in Miami, the Top competitor score would be for the highest performing product in Miami. 
Developing a Strategy
Equipped with a numerical representation of product performance relative to the competition, you have the opportunity to leverage commission to boost your exposure. What you do next should be based on your current score, product goals, and how aggressively you plan to meet those goals. 
We'll walk through some examples and provide best practices for each stage of visibility.
If you are in the Red

What this tells us:
First, you'll need to increase the commission rate above the minimum to enter the program. You should aim to raise your visibility score above the average (in the example above, 35) to become competitive. You can use the slider to estimate the impact of the commission increase on your visibility score in real-time. 
What else needs to happen:
Take a good hard look at your product's quality. We recommend running a product audit to see what changes can elevate your product quality and enhance traveler appeal. Product quality directly impacts page views, a vital factor in visibility score calculations.
When reviewing your product page, ask yourself (or, better yet, someone who is unfamiliar with your product) the following questions:
Content
How compelling is the product content? 

Are there enough high-quality photos? We recommend including at least six high-resolution photos of experience highlights.  

If someone read the descriptions for the first time, would they want to book? Does the product generate enough excitement?

Do travelers understand what is included with purchase? Is it clear what

is not included with purchase? 
Try to strike a balance between providing enough detail to enable the reader to picture themself participating and clarity to ensure travelers fully understand what you are offering. 
More on product page content: Here's What an Excellent Product Looks Like on Viator
Reviews
What messages are coming across in my product reviews? 

Do I have enough highly-positive reviews (a few negative reviews are not dealbreakers.

Especially if you respond to them

!)? 

Do I have enough recent reviews? Travelers seek recent reviews to envision what the experience could look like for them if they book soon.
More on how to get reviews: How to Ask For and Get Reviews on Viator
As previously mentioned, visibility scores change frequently and reflect factors specific to your market. You will see improvements to your visibility score by making the above changes and adjusting your commission. Remember to check back in regularly.
If you are in the Yellow

What this tells us:
Your product is in relatively good standing. A visibility score of 48 before opt in is above the average visibility score of 35 in the example above, which means it is more visible than the average product in that destination and has the potential to make it to the Green or the Top visibility score.
What else needs to happen:
It is always a good idea to conduct an audit on product quality (see recommendations above). However, increasing commission for this product will have the greatest impact on its visibility score.
Check your visibility score regularly and adjust the commission based on what others in your competitor set are doing. It's also important to think back on your specific goals for this product and what you hoped to achieve with Viator Accelerate. Regardless of your objectives, you are now in the driver's seat with Viator Accelerate.
If you are in the Green

If you've worked your way up from the Red or Yellow and have made it to the Green, congratulations! You should see the impact reflected in increased page views and bookings on your Insights page.
You might want to step away from the Insights page for a few days, but you shouldn't abandon it entirely. Your visibility score is subject to change based on market conditions, which means no level of visibility is guaranteed indefinitely. Continue to monitor your score and maintain product quality. If you choose to lower the commission, you will lose visibility, and it may lower your visibility score.
Viator Accelerate was designed to empower operators with greater insight into their respective competitive landscapes and more control over their products' visibility. A deeper understanding of how the program works and a strategy of continual product improvement will help you reach your goals.